Collection items
In Stock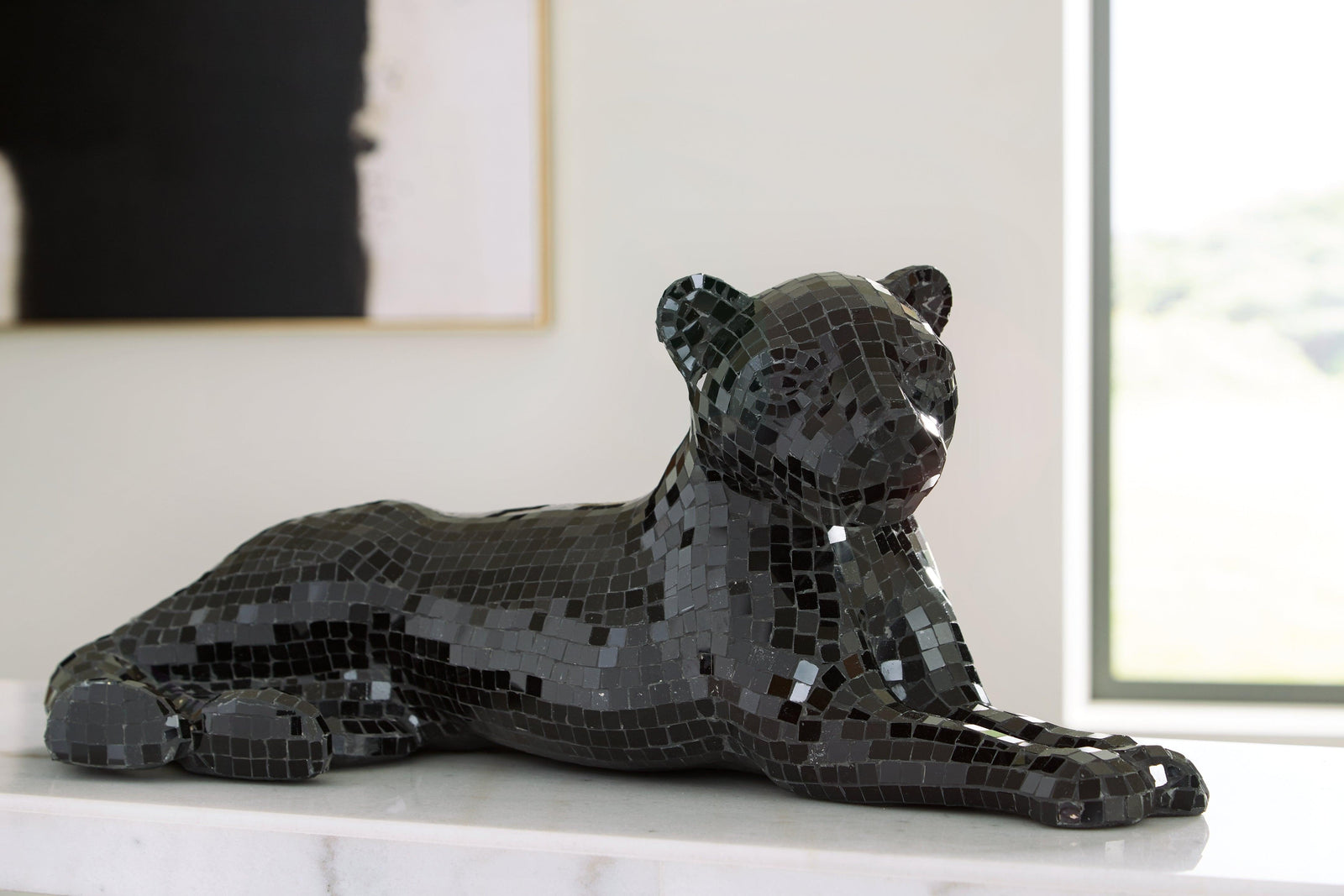 The Drice Mirror Sculpture is an iconic piece of artwork created by artist Kevin Drice in 2023. The sculpture is made out of reflective glass and metal, creating a mirrored image of its surrounding environment. The sculpture features intricate detailing throughout, including curved lines and abstract shapes. The mirrored surfaces reflect the light around it, creating a constantly changing and dynamic display. The piece is both striking and serene, inviting viewers to explore its many facets. Its unique design reflects the artist's signature style and creates a mesmerizing effect. The Drice Mirror Sculpture is a captivating piece of art that is sure to be admired for years to come.
Decorate your home with this iconic mixed media sculpture. Featuring mosaic glass and paper composite, this panther will add an exotic element to any space. Create a fierce look in your bedroom or luxurious allure in your living room with this unique and thought-provoking piece.
Item Name: Drice Panther Sculpture
SKU: A2000412
UPC: 024052786453
FEATURES
Mosaic glass and paper composite

Hand-crafted

Panther design

Due to the hand crafted nature of this product, some variations may occur

Consumer Assembly: No Assembly Required
DIMENSIONS
Overall Dimensions (Inches): 30W x 6D x 10H
Item Weight (Lbs): 13
Unit Width (Inches): 30
Unit Depth (Inches): 6
Unit Height (Inches): 10.5
Items Per Case: 1
Shipping Weight (Lbs): 25
Carton Depth (Inches): 9.75
Carton Height (Inches): 17.63
Carton Width (Inches): 34.63
SPECIFICATIONS
Lifestyle: Contemporary
Color: Mirror
COLLECTION
Collection Name: Drice
Brand: Signature Design by Ashley®
Series ID: A2000412
Ashley Express
Retail Code:
71047
Same-Day Delivery to Houston: 
We offer same-day delivery up to 30 miles from our warehouse for selected products which are labeled on our website. If these products are ordered by 1pm Monday to Friday, they will be delivered the same day by 7pm. If they are ordered after 1pm, delivery will be the next business day. Same-Day Delivery is not available Saturdays and Sundays.
 For any questions about delivery services, please call us at 832 212 8884.
Product or Part

Limited Warranty Duration

Labor Coverage

Frames Used In Upholstered and Leather Products

Limited Lifetime Warranty*.

1 Year

Springs and Webbed Seating System

The metal spring systems are generally, sinuous, wire seat springs, and, where applicable, back springs. The Webbed Seating System is the webbing used to support the seating area.

5 Year Limited Warranty

1 Year

Recliner Mechanisms

5 Year Limited Warranty

1 Year

Sleeper Mechanism

3 Year Limited Warranty

1 Year

Sleeper Mattress**

3 year Limited Warranty-Pro-rated

1 year

Cushioning***

Including Unattached Cushioning which means each cushion core in an unattached (loose) seat cushion and Attached Cushion which means each cushion core in a seat cushion which is attached to the product

1 Year Limited Warranty

1 Year

Leather and Upholstery Fabric****

1 Year Limited Warranty

1 Year

Top of Bed

Top of Bed means comforters, bed skirts, pillow shams, and any accent pillows included with a comforter set.

30 days

30 days

Finishes and all Other Furniture Products

Finishes and all Other Furniture Products means all finishes and other parts, components, and other furniture products not specifically included in the above Limited Warranties, including but not limited to dining room tables, chairs, occasional tables, beds, dressers, sleeper mattresses, marble tops, granite tops, desks, curio cabinets, china cabinets, buffets, entertainment centers, lamps, electrical components (other than light bulbs), recliner pull cords and handles incorporated into any furniture product.

1 Year Limited Warranty

1 Year
For limitations, exceptions, labor coverage duration, and other terms and details, please visit Ashley Furniture Warranty Information Page
Ashley Furniture Industries is the largest furniture manufacturer in the world, selling nearly 30 million units per year with over 7,000 SKUs. With a production and distribution capacity of more than 300 hectares worldwide, all Ashley Furniture Industries products are designed and developed to enable easy production, cost control and rapid market time-to-market.
With super factories in Mississippi, North Carolina, Pennsylvania, Wisconsin, China and Vietnam, Ashley Furniture Industries employs state-of-the-art manufacturing equipment (often designed and built by in-house engineers), patented and proprietary assembly methods, streamlined systems and strict quality control processes.
Ashley Furniture Industries' comprehensive approach focuses on total optimization of every appliance, every skilled craftsman, every square foot of space - every day.
Payment & Security
Your payment information is processed securely. We do not store credit card details nor have access to your credit card information.